Schoolhouse of Wonder and COVID-19

Reviewed July 11, 2022
Schoolhouse is committed to balancing the need to provide a safe environment with young people's developmental needs to socialize, learn, and have fun. Our policies are informed by guidance from the Centers for Disease Control (CDC), the North Carolina Department of Health and Human Services (NCDHHS), local health departments, the American Camp Association, and others. We will continue to update our policies and procedures as public health guidance changes. We will communicate any updates as they occur.
All staff are required to provide proof of vaccination or verification of exemption.
All staff have received training to ensure they understand the safety requirements, protocols, and expectations to help prevent the spread of COVID-19.
Staff and campers are not required to wear masks when outdoors with proper physical distancing, though we fully support staff and campers wearing masks at any time other than while in water.
Staff and campers, regardless of vaccination status, are required to wear a mask when indoors (e.g. Mess Hall at Umstead, Photography Museum at West Point) and as NCDHHS recommdations dictate.
All staff and campers will complete a daily health screening for Covid-19 in an effort to reduce transmission at camp.
Frequent hand-washing or sanitizing is expected of campers and staff, including before eating.
As has been the case, food and beverage sharing is not allowed at camp. 
Daily Health Screening for COVID-19
To help reduce the transmission of COVID-19 and other illnesses at camp, anyone who meets any of the criteria below will not be allowed at Schoolhouse of Wonder.
For Campers
Before Camp: Parents are encouraged to be on the alert for signs of illness in their children and are required to keep them home if the answer is 'Yes' to any of the health screening questions below.
Upon Arrival: We will ask the person dropping off the camper if they can confirm that the answer to all of these screening questions is "No."

Has anyone being dropped off at Schoolhouse of Wonder
Tested positive for Covid-19 in the last 10 days?
Been exposed to Covid-19 in the last 10 days?
Experienced any of the following symptoms in the last 48 hours?

Fever (100.4 or higher) or chills
Cough
Shortness of breath/difficulty breathing
Fatigue
Muscle or body aches
Headache
New loss of taste or smell
Sore throat
Congestion or runny nose
Nausea or vomiting
Diarrhea
Staff will also make a visual inspection of the camper for subjective signs of illness (e.g. flushed cheeks, fatigue, extreme fussiness, shivering, sweating).
During Camp: We will use these procedures for any camper that exhibits new or worsening symptoms of COVID-19 at camp:
Camper will be removed from the group and moved to an isolated location under supervision.

Staff will notify caregivers of the symptoms and the need for immediate pick up.

Families are encouraged to coordinate decision-making around the child's care with family health care provider.
Returning To Camp (please also refer to flow chart below):
In the case of a camper who has symptoms that could be COVID-19 and does not get evaluated by a medical professional or tested for COVID-19 with a viral test done in a laboratory (e.g. PCR test), the child is assumed to have COVID-19 and cannot return to camp until the individual has met criteria for return.

A camper who has exhibited symptoms that could be COVID-19 can return to camp if:

the PCR Test result is negative OR they have a note from a health care professional with clearance to return, AND

it has been at least 24 hours since they had a fever (without the use of fever-reducing medication) AND

their symptoms have improved significantly.

After Camp: We request that families remain in contact with us post-camp. Please let us know if anyone in your household tests positive for COVID-19 in the two weeks after attending camp. If this is the case, we will notify all campers and staff who may have been in close contact with the camper.
Absences from Camp: Please call the Site Manager or the Schoolhouse office to report all absences from camp.
For Staff
Before Camp: If a staff member self-identifies as having symptoms listed in the screening criteria above, they will contact their supervisor, not come to work, and follow procedures outlined in the table below.
During Camp: Staff exhibiting new or worsening symptoms of possible COVID-19 at camp should:
Inform their supervisor and leave the camp group immediately

Obtain a COVID-19 test (PCR)


Follow the recommendations of their healthcare provider

Follow the protocol for returning to work
If there are indications that anyone with COVID-19 (symptomatic or asymptomatic) has attended camp, we will notify families immediately. If applicable, we will cancel the remainder of that camp and provide prorated refunds.
Campers or Staff Returning to Camp: Communicate with the office to determine the timeline for return following COVID-19 symptoms, diagnosis, or exposure.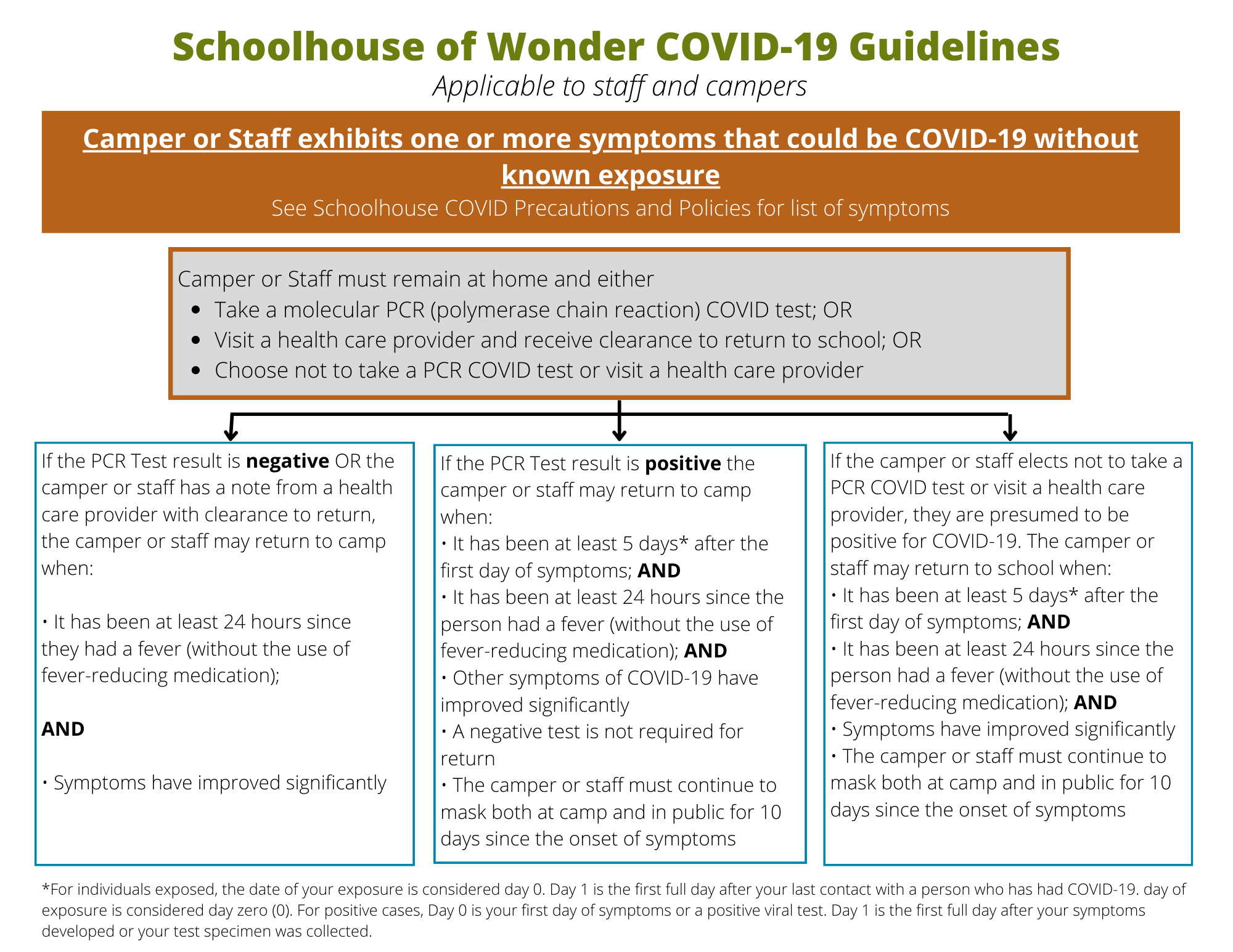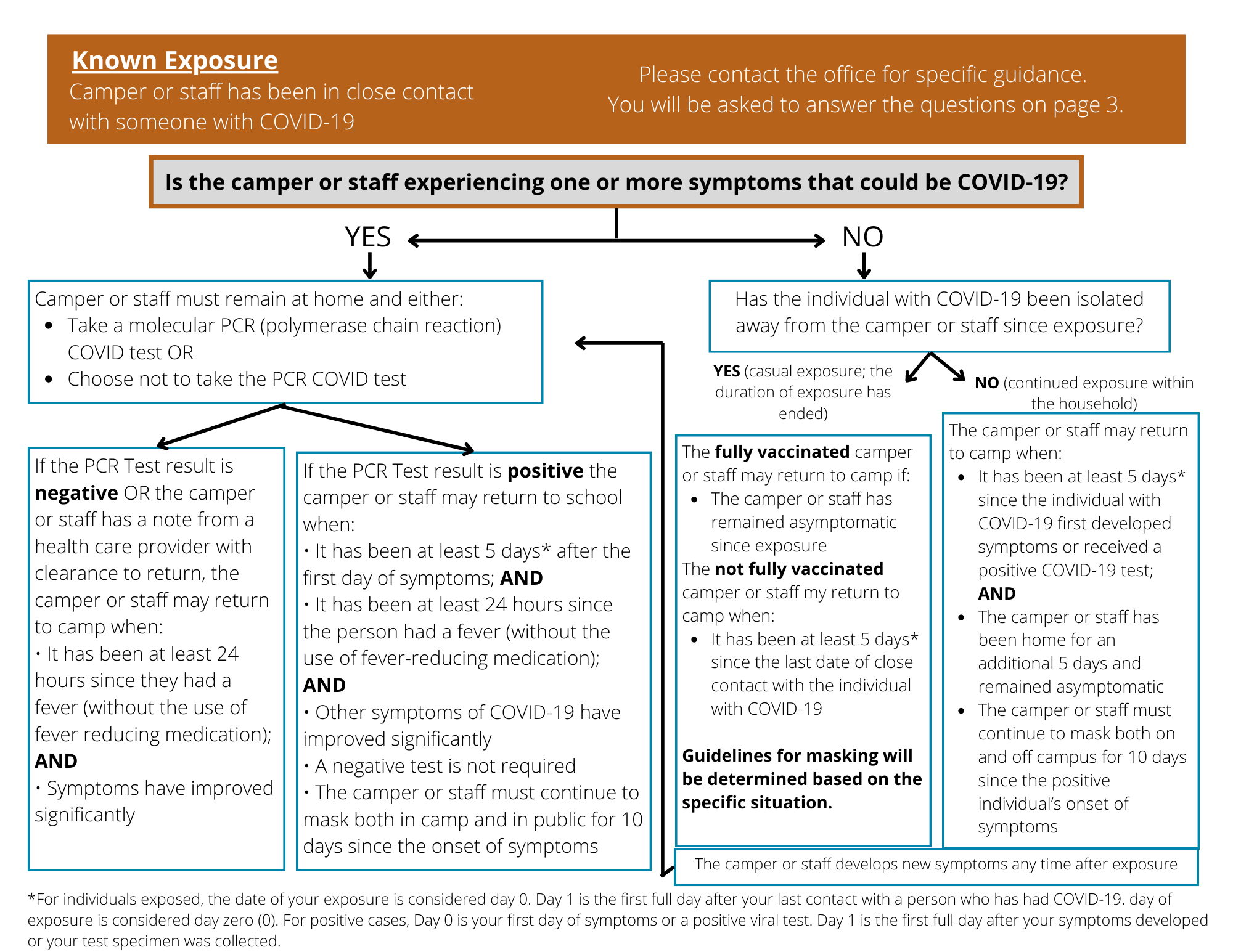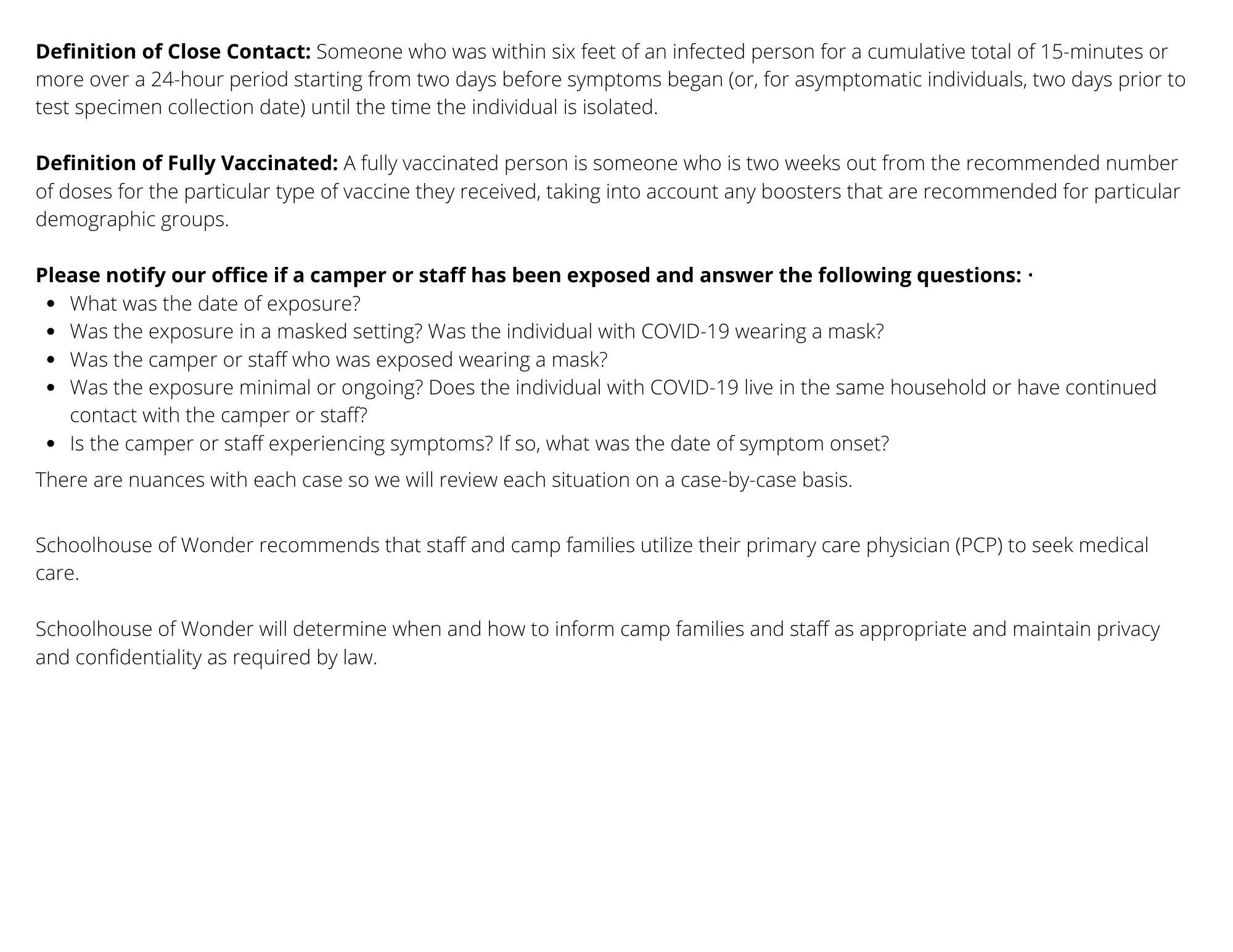 ---