Spring brings in frosty mornings growing warmer, with fiddleheads and tadpoles to discover. Summer ushers in a 12-week whirlwind of summer camps with laughter and songs echoing through the trees. Fall welcomes the changing leaves, the quieting forest, and crackling campfires. Winter is the season for inspiration and planning of the next year.
A  Lead Camp Counselor/Field Trip Instructor is an important member of our field team. They help create magical and impactful day camps for children ages 5-12 and teach outdoor, curriculum-aligned field trips to elementary-aged students. This is a full-time, year-round position.
As a Lead Camp Counselor/Field Trip Instructor, you'll be spending your time:
Leading camp groups of 2-3 staff members and 20-32 children in games, hikes, skill-based activities, river and creek explorations, storytelling, songs, building forts, whittling, and crafts;
Teaching field trip groups of 20-35 children, teachers, and chaperones using hands-on, curriculum-aligned programming. Read more about our field trip topics. (At this time Field Trips are on pause with our school partners due to COVID-19, but we hope to restart them.)
Mentoring and coaching Counselors, Junior Counselors, and Counselors-in-Training;
Communicating with Schoolhouse staff and camp parents;
Modeling Schoolhouse values;
Ensuring the physical and emotional safety of participants;
Working with your supervisor to develop camp schedules and activities, maintaining and preparing supplies, creating reports, and other office tasks as needed.
This position begins September 2022.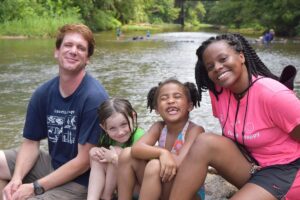 ---
---
General Responsibilities 
Camp Leads and Field Trip Instructors are expected to:
Safeguard

the physical, emotional, and intellectual safety of campers and students. Model Schoolhouse values like kindness, curiosity, and empathy. Patiently process conflict and disagreements.
Participate

 in all aspects of programs using Schoolhouse methodologies. Actively engage participants and deliver consistent and exceptional supervision of children.

 Be a good example and role model at all times.

Play the games, sing the songs, wade in the river, hide in the leaves, build forts, and

enthusiastically

join in

on all aspects of our programs

.

Be a leader.

Use and model behavior management, group management, and teaching techniques. Mentor and coach campers and proactively and positively address behavior challenges. Stay on schedule and manage your time. Create a culture of physical and emotional safety.

 
Communicate

with participants, their families, teachers, and other Schoolhouse staff. Create established lines of communication built on trust and empathy.
Provide exemplary adherence to Schoolhouse's values, policies, and procedures.
Create and deliver activities.

P

artner with your team to create and run high-quality, exciting, nature-based activities and schedules

. W

ork with the Field Trip Manager to develop new field trip programs, activities, and curriculum.
Prepare for programs.

Take part in training and staff meetings. Prepare materials, create schedules, set up and break down programs, and clean and maintain program spaces.
Set an excellent example in teaching and behavior management methods, work ethic, and attitude.
Serve as a resource to other Schoolhouse staff in areas of special knowledge or interest.
Mentor staff and Counselors-in-Training through giving and receiving feedback, modeling behavior, and creating a culture of growth. 
Participate in marketing and promotional strategies and Schoolhouse events as requested.
Professional Development.

Work with your supervisor to create a professional development plan. This includes continuing education and familiarity with best practices.
Elsewhere as needed.

This list highlights major parts of a Camp Lead/Field Trip Instructor's responsibilities, but there are plenty of other parts to the job!
You can find a description of the physcial activities common in our field staff positions here.
---
Please Apply If You…
Are a high school graduate or equivalent, and are at least 18 years of age by your first day of work
Are up-to-date with your COVID vaccinations or have a documented exemption
Are kind, curious, and confident with a "can-do" attitude
Have exceptional mentoring skills, including effective communication, enthusiasm, resourcefulness, sense of humor, self-control, and patience
Have great verbal, interpersonal, and listening communication skills
Desire a cooperative, team-oriented work atmosphere
Have experience working with children and want to mentor them to find and be their best selves
Are able and willing to accept and effectively act on feedback and guidance
Enjoy being outdoors and are comfortable working all day, outdoors, in all kinds of weather
Are committed to Schoolhouse's mission and values
Take your work seriously but yourself, not so much
We require current pediatric and adult CPR and First Aid certification by the first day of work. We accept certifications from the American Red Cross, American Heart Association, or American Safety and Health Institute (ASHI).
---
Bonus points (or at least a high-five) if you have…
A college degree, or equivalent combination of education and experience in a relevant field (e.g. biology, ecology, environmental science, natural resource management, botany)
Teaching experience
Summer camp experience
Knowledge and interest in plants, animals, geology, ecology, or cultural history
Experience with experiential and inquiry-based learning techniques
Skill-based training or certifications (Lifeguarding, EMT, etc.)
English/Spanish bilingual fluency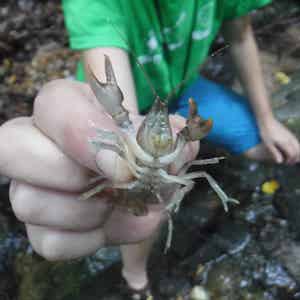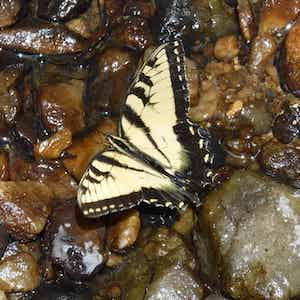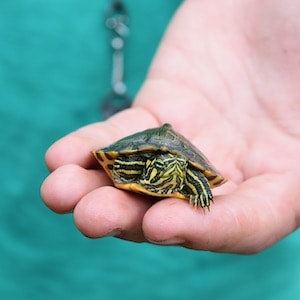 ---
Evaluation
Lead Camp Counselor/Field Trip Instructor reports to the Site Manager in Wake, Durham, or Orange County as applicable.
A formal review will be conducted by the supervisor to establish and assess progress against employee goals.  Ongoing feedback provided through regular supervision and work plan development/review sessions.
---
Office Location, Hours, Travel
The work of this Lead Camp Counselor/Field Trip Instructor is typically performed at our Durham or Orange County locations with some remote, non-program work as well. Work may also be performed at our Wake County locations. Travel to off-site locations is occasionally required.
Our Durham location is at West Point on the Eno City Park, 5101 North Roxboro St, Durham, NC 27704.
Our Orange County location is at Brumley Forest, 3223 New Hope Church Rd, Chapel Hill, NC.
Our Wake County locations include Umstead State Park (Reedy Creek entrance) at 2100 Harrison Ave, Cary, NC 27513 and Harris Lake County Park 2112 County Park Dr, New Hill, NC 27562.
Hours are dependent on organizational needs and vary depending on the season. Hours typically total between 32 hours and 50 hours per week and range from 7:30a – 6p Monday through Friday. Any hours worked beyond 45 during any single week will be classified as overtime. Occasional weekends and/or evenings may be required.
---
Compensation
The wage range for this position is $15 per hour.
Benefits for year-round, non-exempt employees include the following:
Insurance benefits: We offer 100% paid health insurance or an equivalent health insurance stipend to full-time employees
Paid Time Off: Paid time off is accrued at a rate of up to 80 hours per year
Paid Holidays: In addition to paid time off, there are up to twelve paid holidays per year
---
Application Instructions
We are reviewing Lead Camp Counselor/Field Trip applications on a rolling basis and this position is open until filled.  Only complete applications will be reviewed.
Step 1
Complete the Applicant Info Form: 
Step 2
Email the following to Schoolhouse of Wonder at jointheteam@schoolhouseofwonder.org:
A cover letter that explains your interest in working as a Year-Round Lead Camp Counselor/Field Trip Instructor at Schoolhouse of Wonder (maximum one page)
Your resume (maximum one page)
Please include your cover letter and resume as one document
Current certification in CPR and First Aid and a successful background check are required before work can begin. Schoolhouse will pursue both indicated and non-indicated references.
This is an "at will" non-exempt, hourly position that reports directly to the Site Manager of Wake, Durham, or Orange County.
Qualified women, minorities, and bilingual candidates (English/Spanish) are encouraged to apply. We are fully invested in creating a supportive environment for all marginalized groups including women, people of color, and LGBT+ people by promoting community collaboration within our organization.
 Schoolhouse of Wonder is an Equal Opportunity Employer and does not discriminate on the basis of race, color, religion, age, sex, disability, national or ethnic origin, or sexual orientation.
---
About Schoolhouse of Wonder
Founded in 1989, Schoolhouse of Wonder's mission is to create kind, curious, and confident kids through nature-based outdoor adventures. We seek to achieve this mission through year-round, outdoor day camps, curriculum-aligned field trips, and leadership training for teenagers.
These core values guide our behavior and help us make decisions:
We model and teach self-awareness and empathy
We celebrate individuality; Different is just different
Everyone deserves to be witnessed, heard and respected
In nature, we're all students
Life should be filled with adventures and a sense of wonder
We send every kid home dirty, tired and happy
Revenues: Approximately $1,000,000