A Reminder of How to Update Your Account Info
Where to Start?
Change your password.  Go to our website, try to log-in, and follow the process to change your password.  You'll only need to do this the first time you log in to our new system.
What next?
Check all of the information associated with you and the child(ren) on your account is accurate.  You'll want to pay close attention to the following sections:
Carpool List: Revisit whether or not you would like your information shared for carpooling purposes.  By default, we have selected No to protect your privacy, so please be sure to change that if necessary.
Photo/Video Release:  You can now grant permission for photos and video of your children on a child by child basis.  As always, images of your child(ren) will never include their name. Even if you have previously selected Yes for Photo Permission, the new system defaulted everyone to No, so please review this response to ensure that we continue to include pictures of your camper(s) in our Photo Gallery.
New Required Questions for Children: For children, we've expanded the special needs section to better serve all of our campers. Please be sure to answer all of the questions. You know your kids better than anyone! The screen below shows what this section looks like.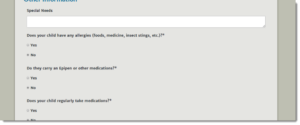 If you have any questions or need any assistance, please contact us at schoolhouse@schoolhouseofwonder.org or (919) 477-2116.