You have to be a little crazy to work at Schoolhouse. The hours are long, the sun is hot, and the salary isn't going to build a big bank roll. But the privilege of introducing kids to nature, helping them discover how capable they are, and watching them grow in confidence every day is absolutely worth it. And the hugs don't hurt either. Here's our team who is dedicated to nurturing curiosity, celebrating courage, and most of all, caring for the whole of every child.
---
Wendy Tonker (2011) 
Executive Director
Wendy has 25 years experience as a nonprofit director and organizational development consultant. She joined the Schoolhouse staff in August 2011, after one year of service on the Board of Directors and three years as a camp parent. Wendy earned a bachelor's degree in Interdisciplinary Studies from Appalachian State University and a Masters of Public Administration from North Carolina Central University. Wendy finds joy in spending time with her family or seeking out hunting and fishing adventures. "My hope for kids that join us at Schoolhouse is for them to feel loved and supported to discover, fully embrace, and express who they are."
---
Grant Thomas (2011)
Regional Program Manager
Grant Thomas, a Durham native, grew up catching snakes and other critters in the Eno River, a hobby that has stayed with him to this day. Grant graduated from the school of filmmaking at UNC School of the Arts, in Winston-Salem, NC. He is passionate about working with children outside of the traditional structure of the classroom and has worked as an educator at several children's museums, including the Boston Children's Museum and the Museum of Life and Science. Grant has a deep-rooted love for the wonders of nature and also enjoys travel, new adventures, animals (real & imaginary), and playing the banjo. "I want kids to establish a life-long sense of awe about the natural world and a deep love of nature and of themselves."
---
Hannah Branch (2016)

Administrative Manager
Hannah was born and raised in Durham, North Carolina, where she currently resides with her husband, two kids, and two dogs. She has always enjoyed the outdoors, whether it was hiking to waterfalls in the NC mountains or hanging out at the beach. When not at work, you will find her going on adventures and exploring nature with her family, kayaking, soccer, and rock climbing. She is super excited to join the SchoolHouse team and be able to further her love for nature.
---
Meg Gulledge (2014)
Wake County Site Manager
Meg Gulledge is originally from the village of Misenheimer in Stanly County, North Carolina. She attended college in the mountains where she worked two years at the Environmental Leadership Center and two years at Buncombe County Child Services' afterschool program while going to school for art. Meg says she is excited about combining her outdoor adventure skills from working 10 summers at a Girl Scout resident camp with the environmental and administrative skills she obtained from working the past 6 years at the Town of Cary's Hemlock Bluffs Nature Preserve. "I'm thrilled about the opportunity to bring the Schoolhouse mission to Wake County. I can't wait to get to know this new group of kids and parents."
---
Marty Jorgensen (2016)
Orange County Site Manager
Marty grew up in Casper, Wyoming, and spent her childhood rambling around, snowshoeing, and climbing trees on her family's land on Casper Mountain. Inspired by her time outdoors, she decided to follow her passion for being outside and graduated from Green Mountain College with a degree in Adventure Recreation. Marty has worked for a number of summer camps and outdoor organizations and is excited to bring that experience to Schoolhouse of Wonder. In her free time, she likes to grow food, play ukulele, make inventions, and generally goof around. New to North Carolina, she's already enjoyed her first Cheerwine and is excited to see all that the area has to offer!
---
Jennifer Doucette (2015)
Durham Camp Leader and Field Trip Instructor
Jennifer grew up in Raleigh and attended NC State University, graduating in 2013 with a B.S. in Natural Resources. She then moved to Wilmington to intern with Cape Fear River Watch, where she discovered her love of environmental education. She worked with their summer Eco Camp and field trip programs that taught the importance of clean water. In her free time, she loves to read, kayak, spend time with her dogs, and travel. She is excited to work with Schoolhouse of Wonder and give kids the opportunity to explore, have fun, and learn to appreciate nature and the outdoors as much as she does!
---
Katie Kovach (2012)
Field Trip Instructor
Katie has lived most of her life in the Piedmont of North Carolina, growing up in Asheboro. Katie's professional background is rooted in science and education, having NC Environmental Educator Certification, a B.S. in Botany and Biology from NCSU and an M.S. in Forestry from Virginia Tech. Needless to say, she loves plants. After years of focusing on scientific research she has shifted her focus to environmental education. Always excited for a new adventure, she is glad to have found a place where she is inspired and can inspire a fondness for nature in others. Katie enjoys creating art, reading and watching bad sci-fi, climbing trees, hiking, watching her bees, and spending time with her cats and family. "I hope that kids who come to SHOW will have fun, see cool things, and gain confidence with themselves and their relationship to nature."
---
Alix Wicker (2016)
Orange Camp Leader and Field Trip Instructor
From an early age, Alix has harbored a deep sense of wonder for the natural world. A Durham native, she grew up exploring the forests near her home and the plants and animals along the banks of the Eno River. Alix studied Biology and History at Williams College, where she further expanded her interest in plants by caring for the community vegetable garden. Since graduating, she has worked in the Field Education program at Teton Science Schools in Wyoming and spent a year volunteering as an English teacher in Chile. Alix is interested in creating learning opportunities that are hands-on, interactive, and that encourage students' natural curiosity in the world around them. She is enthusiastic about building community, learning new skills, and about growing and eating plants. When she's not at camp, you can find her hiking, dancing, listening to podcasts, experimenting with new recipes, or riding her bicycle long distances. She loved attending Schoolhouse of Wonder camps as a child and is looking forward to sharing the joy of being outdoors with others this summer!
---
Frank Barnett (2016)
Wake Camp Counselor
Frank is a native Central Floridian who grew up backpacking through the Ocala National Forest and through the Smoky Mountains of North Carolina. He graduated with a bachelors degree in Sociology in 2013, and in 2015, he went on a 2000-mile thru-hike of the Appalachian Trail. He currently lives in Cary, North Carolina, pursuing his love of environmental education with Schoolhouse of Wonder and hopes to enrich the lives of young outdoor enthusiasts. Frank has been a part of numerous outdoor youth camping experiences through his church and is excited to be leading the next generation of campers today. In his spare time, he loves to do yoga, read good books, hike, and play instruments.
---
Meagan Wilson (2016)
Wake Camp Counselor
Meagan grew up in the Laurel Highlands of Pennsylvania and spent most of her time climbing trees, picking berries, looking for spiders, going on explorations in her forested backyard, and building epic snow forts. Her passion for the outdoors continued to grow after spending several summers as a camper at an environmentally focused resident camp on the shores of Lake Erie. She attended Centre College in Danville, Kentucky, where she earned her B.S in Chemistry and was involved in several campus organizations with a community service focus including Alpha Delta Pi sorority and the Centre Science Club. Meagan has worked with a number of youth and educational programs and is thrilled to be back in the outdoors as part of the Schoolhouse of Wonder team. When she isn't studying for her M.B.A. program, Meagan enjoys gardening, cooking, reading on her porch swing, hiking the local trails, visiting any and all bodies of water, going to museums, and discovering the beauty in everything. She is excited to share her passion for nature (and love of moss) with the kids and help guide them on their own journey of discovery. 
---
Maddy Rossie (2015)
Wake Lead Camp Counselor
Maddy spent her childhood here in Cary and Raleigh, North Carolina. She has always had an immense love of the outdoors and could often be spotted in trees, leaf forts, and creeks as a child. Maddy graduated with a degree in Theatre Design and Technology from Adelphi University on Long Island. She is now back in NC and back outdoors plotting her next adventures. "My passion for kids is born of the enthusiasm to share with them the powers of adventure, love, and limitlessness."
---
Pam Andrae (2017)
Durham Camp Lead and Field Trip Instructor
Pam
is originally from Virginia but made her way to NC when she attended ECU (go Pirates) for Psychology and Art. She also worked for the ECU Adventure Program, leading rock climbing, sea kayaking and caving trips. That lead to another guiding opportunity leading trips all over the country. Exploring places like Yellowstone, Tetons, Yosemite, San Juan Islands, the Kenai Pennisula and the Black Hills
Pam
honed her skills for teaching the different culture, history and flora and fauna of all of these unique and breath-taking places.
Pam
is excited to bring her skills back to her community, here in Durham. When
Pam
isn't shaping young minds, she can be found riding her bike long distances with too much stuff strapped to it, practicing yoga, kayaking where she hasn't been yet or planning the next adventure.
Pam
also enjoys playing in the dirt, "gardening", construction projects at home and playing trivia with her friends. 
Pam
believes in connecting with Nature can foster a better sense of self-efficacy in children and adults and spur an appreciation for our planet, the only planet we have.
---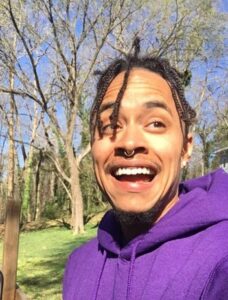 Nico Gumbs (2017)
Durham Camp Lead and Field Trip Instructor
Nico is originally from Homestead, FL – just north of the Florida Keys- and grew up in a mixture of swampy wetlands and coral reefs. Since their backyard was literally the Florida Everglades, it served as a pivotal point in Nico's fondness of nature and being outside. Upon moving to Central Florida to get their degree in Philosophy and Women's Studies, Nico continued to enjoy Florida's natural landscapes through their work with farm workers. Nico is passionate about working with youth and seeing them as agents of change in their communities and the world.
"I'm excited to work with Schoolhouse of Wonder to give youth an opportunity to be in nature outside of this technological-driven century as well as, continuing to learn from young people.
---
Summer Brown (2017)
Durham Camp Counselor 
Summer is a Durham native and has a love for anything outside. Growing up, she was extremely involved in 4H and spent several summer's at 4H camp. Summer just finished her second year at UNCG where she is studying Therapeutic Recreation. She competes on the Equestrian team for UNCG and is a member of the Community and Therapeutic Recreation club. Outside of work you will find her riding horses, spending time with family or hiking with her dog, Harper!  
---
Joy McNeil (2017)
Durham Camp Counselor
Joy is a rising Junior at UNC-Greensboro majoring in Recreational Therapy. In her spare time she loves to sing, listen to music, visit parks and nature trails, and play games. She enjoys working with kids because they are so full of life and their positive energy is passed on to me! As a kid, she pretended to live in this "Bridge to Terabithia" type land in the woods around her house. "Schoolhouse of Wonder gives me an opportunity to reminisce on fond childhood memories and have an impact on others lives."
---
Robin LaRochelle (2017)
Durham Camp Lead
"I am originally from Northeast Connecticut,  but I am graduating from SUNY Cobleskill in New York (May 13th) with a bachelors degree in Fisheries & Aquaculture. I love to fish, hike, geocache, do arts and crafts and travel. One of the greatest adventures I have ever been on was a study abroad trip to the Amazon Rainforest in Peru but I also have traveled to Panama, Costa Rica, Ireland, Wales, and England. I want to travel the world and would like to get to every continent. I enjoy explore creeks and forests and doing photography. I love insects and bugs and have a pet tarantula. I am excited to share my passion for wildlife and conservation with children and have new adventures, I am always up to learning something new! " 
---
Kaylyn Braga (2017)
Durham Camp Counselor
"I grew up in Raleigh, NC where I spent most days and nights either playing organized sports like soccer or swimming or very unorganized games in my neighborhood. Through both, I grew to appreciate the beauty of the great outdoors and decided to pursue a degree in Recreation Management at Appalachian State University. At ASU I discovered a deep passion for outdoor education and outdoor adventure. Specifically, backpacking, climbing, and challenge courses. Since graduation I have been working and living at an outdoor education camp that focuses on teaching science, team-building, and leadership to middle school students in Southern California, and I have enjoyed every second of it. I am super excited to head back east this summer to join the Schoolhouse of Wonder team!"
---
Donovan Recny (2017)
Durham Camp Counselor
Donovan (DJ) was born and raised in Chapel Hill, NC, where he developed a love of the outdoors and played outside during his summer vacations. He carried his love of the outdoors with him while biking across the United States and traveling the world, where he has slept in a tent through every weather condition imaginable. As an Eagle Scout, he hopes to impart his love of the outdoors on others while getting to spend time outside himself. While not at work, he is a student at Boston College who loves cycling and is a competitive powerlifter. He loves deadlifting, and will never stop talking about it.
---
Emily Webb (2017)
Durham Camp Counselor
Emily grew up in Kinston, North Carolina and is currently a junior at the University of North Carolina at Chapel Hill where she majors in biology as well as African, African American, and diaspora studies. Emily grew up outside venturing through the woods and playing in the mud. She loves the outdoors and spends her free time traveling the world in order to experience new beautiful scenery; although, she also appreciates a day spent at home with her cats. She posses a great passion for helping others and making people happy.  Kids are often some of her favorite people due to their free-spirited, curious, and adventurous nature. Emily cannot wait to be the best camp counselor she can be for the children! 
---
We also count on our wonderful board of directors to help round out the team. We're grateful for the dedication our staff and board demonstrate every day. It shows up in big and small ways, and we couldn't do it without them. 
Want to join this crazy cast? Check out our Employment page.