You have to be a little crazy to work at Schoolhouse. The hours are long, the sun is hot, and the salary isn't going to build a big bank roll. But the privilege of introducing kids to nature, helping them discover how capable they are, and watching them grow in confidence every day is absolutely worth it. And the hugs don't hurt either. Here's our team who is dedicated to nurturing curiosity, celebrating courage, and most of all, caring for the whole of every child.
---
Wendy Tonker (2011) 
Executive Director
Wendy has 25 years experience as a nonprofit director and organizational development consultant. She joined the Schoolhouse staff in August 2011, after one year of service on the Board of Directors and three years as a camp parent. Wendy earned a bachelor's degree in Interdisciplinary Studies from Appalachian State University and a Masters of Public Administration from North Carolina Central University. Wendy finds joy in spending time with her family or seeking out hunting and fishing adventures. "My hope for kids that join us at Schoolhouse is for them to feel loved and supported to discover, fully embrace, and express who they are."
---
Grant Thomas (2011)
Regional Program Manager
Grant Thomas, a Durham native, grew up catching snakes and other critters in the Eno River, a hobby that has stayed with him to this day. Grant graduated from the school of filmmaking at UNC School of the Arts, in Winston-Salem, NC. He is passionate about working with children outside of the traditional structure of the classroom and has worked as an educator at several children's museums, including the Boston Children's Museum and the Museum of Life and Science. Grant has a deep-rooted love for the wonders of nature and also enjoys travel, new adventures, animals (real & imaginary), and playing the banjo. "I want kids to establish a life-long sense of awe about the natural world and a deep love of nature and of themselves."
---
Meg Gulledge (2014)
Wake County Site Manager
Meg Gulledge is originally from the village of Misenheimer in Stanly County, North Carolina. She attended college in the mountains where she worked two years at the Environmental Leadership Center and two years at Buncombe County Child Services' afterschool program while going to school for art. Meg says she is excited about combining her outdoor adventure skills from working 10 summers at a Girl Scout resident camp with the environmental and administrative skills she obtained from working the past 6 years at the Town of Cary's Hemlock Bluffs Nature Preserve. "I'm thrilled about the opportunity to bring the Schoolhouse mission to Wake County. I can't wait to get to know this new group of kids and parents."
---
Marty Jorgensen (2016)
Orange County Site Manager
Marty grew up in Casper, Wyoming, and spent her childhood rambling around, snowshoeing, and climbing trees on her family's land on Casper Mountain. Inspired by her time outdoors, she decided to follow her passion for being outside and graduated from Green Mountain College with a degree in Adventure Recreation. Marty has worked for a number of summer camps and outdoor organizations and is excited to bring that experience to Schoolhouse of Wonder. In her free time, she likes to grow food, play ukulele, make inventions, and generally goof around. New to North Carolina, she's already enjoyed her first Cheerwine and is excited to see all that the area has to offer!
---
Meagan Wilson (2016)
Administrative Coordinator
Meagan grew up in the Laurel Highlands of Pennsylvania and spent most of her time climbing trees, picking berries, looking for spiders, going on explorations in her forested backyard, and building epic snow forts. Her passion for the outdoors continued to grow after spending several summers as a camper at an environmentally focused resident camp on the shores of Lake Erie. She studied Chemistry at Centre College in Danville, Kentucky and was involved in several campus organizations with a community service focus including Alpha Delta Pi sorority and the Centre Science Club. When she isn't studying for her M.B.A. program, Meagan enjoys gardening, cooking, reading on her porch swing, hiking the local trails, visiting any and all bodies of water, going to museums, and discovering the beauty in everything. She also has a soft spot for her two cats, EV and Ollie, and her "better half" Jon. Meagan loved being a Lead Counselor in Wake and is excited for a new adventure as the Administrative Coordinator.
---
Hannah Glatz (2016)
Administrative Assistant
Hannah is from the Midwest and has lived all over the United States. She started working at Schoolhouse in the summer of 2016 as a Durham camp counselor, and now works in the office cheerfully answering phones, emails, and problem-solving for our camp families. Hannah is passionate about mermaids, social justice, watching womens' soccer, and beekeeping. She is also a licensed massage therapist.
---
Pam Andrae (2017)
Durham Program Coordinator
Pam
is originally from Virginia but made her way to NC when she attended ECU (go Pirates) for Psychology and Art. She also worked for the ECU Adventure Program, leading rock climbing, sea kayaking, and caving trips. That lead to another guiding opportunity leading trips all over the country. Exploring places like Yellowstone, Tetons, Yosemite, San Juan Islands, the Kenai Peninsula, and the Black Hills
Pam
honed her skills for teaching the different culture, history, and flora and fauna of all of these unique and breathtaking places.
Pam
is excited to bring her skills back to her community, here in Durham. When
Pam
isn't shaping young minds, she can be found riding her bike long distances with too much stuff strapped to it, practicing yoga, kayaking where she hasn't been yet, or planning the next adventure.
Pam
also enjoys playing in the dirt, "gardening", construction projects at home, and playing trivia with her friends. 
Pam
believes in connecting with Nature can foster a better sense of self-efficacy in children and adults and spur an appreciation for our planet, the only planet we have.
---
Brittany Ballentine (2018)
Wake Camp Coordinator
Brittany is a Raleigh native, and a recent graduate of Shaw University, where she received her undergraduate degree in Biology. Her passion for both the outdoors and working with children has allowed her to work as a recreation leader at the Walnut Creek Wetland Park and as a site coordinator for a YMCA afterschool program. Although she was not a very outdoorsy type of child, her love for the environment bloomed much later in life. She is the co-founder and president of Shaw University's very first Wildlife Biology Club. Being able to teach and mentor children, while in an outdoor environment, has been a dream of Brittany's. Joining the Schoolhouse of Wonder team is a dream come true. There's no better classroom than the outdoors. Brittany enjoys music, reading, camping, hiking, and spending as much time as possible with family and friends.
---
Melissa Church (2018)
Durham Camp Coordinator
Melissa grew up in New England, where as a kid she got the chance to explore a variety of habitats including both the White Mountains of New Hampshire, and the beaches of Southern Massachusetts. These memories inspired her to major in environmental science, with hopes of teaching others how special the outdoors can be. She has worked for a variety of non-profits all around the country, teaching a wide variety of ages as well. She is very excited to begin her next adventure with Schoolhouse of Wonder, and is very excited to teach new hands-on experiences and inspire the next generation to love the outdoors. In her free time you can find Melissa exploring new places, diving into a good book, or atop a mountain.
---
Ebonee Alston (2018)
Durham Camp Lead and Field Trip Instructor
Ebonee is from Louisburg, North Carolina where getting dirty while playing outside became a necessity. She grew up playing basketball on a dirt court from dusk till dawn, making trails through the woods, and riding ATVs through gigantic mud puddles. Ebonee obtained a Physical Education degree from North Carolina Central University in 2016. Upon graduation, she knew her degree would lead to educating youth in a traditional setting, but felt as though something was missing. Ebonee soon discovered Outdoor/Experiential Education where she could contribute to youth's personal growth, social awareness, and life skills development.  Being a part of the Schoolhouse team will give Ebonee an opportunity to give back to her community and expand her knowledge in the field. Ebonee is very excited for the wonders of camp and hopes that each camper enjoys the wild adventure of nature.
---
Frank Barnett (2016)
Wake Camp Lead
Frank is a native Central Floridian who grew up backpacking through the Ocala National Forest and through the Smoky Mountains of North Carolina. He graduated with a bachelors degree in Sociology in 2013, and in 2015, he went on a 2000-mile thru-hike of the Appalachian Trail. He currently lives in Cary, North Carolina, pursuing his love of environmental education with Schoolhouse of Wonder and hopes to enrich the lives of young outdoor enthusiasts. Frank has been a part of numerous outdoor youth camping experiences through his church and is excited to be leading the next generation of campers today. In his spare time, he loves to do yoga, read good books, hike, and play instruments.
---
Pat Beezley (2018)
Durham Camp Lead and Field Trip Instructor
Pat is originally from a suburb of St. Louis, Missouri, but has been moving around the country since graduating college. Pat has worked for outdoor recreation organizations including Raleigh Parks and Recreation, wilderness therapy programs in Utah and Georgia, several environmental/adventure education jobs, a climbing/whitewater rafting guide in the New River Gorge, and as a Traveling Trainer for Leave No Trace, touring the country with his wife teaching outdoor ethics while living out of a Subaru. Pat received his Bachelor's Degree in Outdoor Recreation from Southeast Missouri State University and his Master's Degree in Recreation Resource Administration with an emphasis in Recreation from the Southern Illinois University. Pat is so excited to be apart of the Schoolhouse of Wonder team and loves teaching and guiding kids in the outdoors. When Pat is not working he is spending time outside climbing, paddling, surfing, hiking, and biking with his wife and dog.
---
Maggie Chilton (2018)
Wake Camp Lead
Growing up in the Ozarks of southern Missouri and northern Arkansas, Maggie is most at home in creeks and rivers. Today, she spends her free time searching for the the best picnic spots in North Carolina as well as gardening and volunteering with a dog rescue group. Maggie holds a Bachelor's degree from Drury University in sociology and psychology. Since graduation, Maggie has gained years of experience in group leadership from three ropes course facilities as well as in environmental education from Hemlock Bluffs Nature Preserve in the Town of Cary and with the City of Durham's Outdoor Recreation department. She is excited to join Schoolhouse youth in learning about nature and developing emotional intelligence.
---
Brent Callaway (2014)
Wake Camp Lead
Brent Callaway grew up climbing trees, sledding in the heavy snows of West Michigan, and playing imaginative games in the woods with his brothers. After earning his B.S. in Biology from the College of William & Mary, and pursuing various biotech work, Brent fell in love with camp counseling during his first season with Schoolhouse of Wonder, in 2014. When he is not running through the forest with children, Brent works as a teacher and is completing a science teaching masters program via NCSU. Brent loves wordplay, storytelling, and singing, and is thrilled to be back for the summer. "Schoolhouse of Wonder is a dream job for those seeking meaning in their daily work. I look forward to inspiring kids and being inspired by kids."
---
Sarah Margaret Christy (2018)
Orange Camp Lead and Field Trip Instructor
Email: sarahmargaret@schoolhouseofwonder.org
Sarah Margaret was born and raised in the mountains of Western North Carolina, where she spent her free time exploring, hiking, and falling in love with the great outdoors. Her fondest childhood memories include searching for the best swimming holes and trails and spending summers outside at various camps. She is a recent graduate of UNC-Chapel Hill with a degree in Human Development and Family Studies and minors in biology and medical anthropology. Sarah Margaret is passionate about inquiry, the scientific process, and learning through exploration and play. She has several years of experience working with children and families in a variety of educational, medical, and recreational settings. When Sarah Margaret isn't working, you can find her hiking, reading a good book, playing board games, or enjoying the sunshine and fresh air on her front porch. Sarah Margaret is thrilled to be joining the Schoolhouse team and is looking forward to exploring, learning, and growing alongside students and campers!
---
MacKenzie Craig (2018)
Durham Camp Lead
MacKenzie is from Greensboro, born and raised! She grew up helping out on her family's 20-acre farm, and is one of 8 kids. MacKenzie is currently a choral music education major at UNC Greensboro, and is studying both voice and education during the school year. She loves to play piano, guitar, and she especially loves to sing. MacKenzie spent her last summer leading teen adventure camps on trips to Grayson Highlands state park, where she enjoyed hiking, rock climbing, and kayaking down the New River. In her spare time, MacKenzie loves to read, play with her pug, Frankie, and take pictures of her friends and family!
---
Carson Lehmann (2017)
Durham Camp Lead
Carson is from Greensboro, NC, where he spent his days as a kid exploring forests, creeks and anything else muddy. Carson now attends UNC-Asheville, where he is working towards his Political Science and Spanish degrees. Carson just got back from a semester in Ecuador learning about biodiversity and eco-tourism, while getting lost in the rainforest. Carson is more than excited to return to Schoolhouse this summer for many more adventures on the Eno. In his spare time, Carson loves hiking the Blue Ridge, with a good book and hammock in hand.
---
Maya Marin (2017)
Orange Camp Lead
Maya Marin lives in Chapel Hill and is going into her senior year at NC State. She's studying to be a high school biology teacher. She was a Girl Scout for 9 years and grew up going to summer camps. On the weekends she works as a Birthday Party Instructor at the Museum of Natural Sciences. This will be Maya's second year at Schoolhouse and first year as a lead. Her favorite part of camp is spending time in the creek and teaching campers about macroinvertebrates and salamanders. Maya loves being outside, playing camp games, and looking for insects and snakes! When you meet her, ask her about some of her 13 pets! (none of which are cats or dogs)
---
Nate Priebe (2015)
Wake Camp Lead
Nate grew up in Raleigh, NC and developed a love for the outdoors at a young age. After 5 years of attending an immersive, nature-themed summer camp, he took the opportunity to spread his love for nature, learning, and adventure with Schoolhouse campers beginning in 2014 as a CIT. Nate loves to be creative, silly, and active throughout the day at camp. He looks forward to making great memories and bonding with the amazing kids who attend camp.
---
James Scott (2018)
Wake Camp Lead
James was born in Ft. Lauderdale, Florida, where he lived until age 6. He moved to Northeastern PA where he fell in love with being outside and attended a camp at the Pocono Environmental Education Center (PEEC). Eventually, James went on to work as both a camp counselor and an environmental educator at PEEC, teaching a diverse range of ages (three-adult) and backgrounds (local and inner city). James' camp counselors were huge role models for him and he wants to give others the same great experiences that he had as a kid. In James' free time you can find him wandering through the forest with a guidebook identifying and studying local flora and fauna, working on his photography, backpacking, or fishing.
---
Ray Hurley (2017)
Durham CIT Mentor
Ray grew up along the ocean shore and under the canopy of redwood trees. Ray has loved the adventure of nature for as long as they can remember. Ray loves being a part of the Schoolhouse team because it lets them see kids of all ages playing, learning, and adventuring together in nature.
---
Maddy Rossie (2015)
Wake CIT Mentor
Maddy Rossie is a Cary, North Carolina native who grew up here in the woods and creeks in Wake County. She graduated with a Theatre degree from Adelphi University in New York but was drawn back to here to her real home. Inspired by her years as a Girl Scout, she returned to the outdoors where she found Schoolhouse of Wonder. This is Maddy's fourth summer at Schoolhouse and she is thrilled to be the Wake CIT Mentor this summer! Schoolhouse has given her so much and she is excited to share what she's learned and more with the next generation of leaders!
---
Meredith Alling (2018)
Durham Camp Counselor
Meredith was born and raised in Durham where she divided her time between reading obsessively and playing in her backyard. She graduated from Durham School of the Arts in 2017 and currently attends Appalachian State University where she is pursuing degrees in Sustainable Development and Communications. She's a big fan of outdoor adventures in all forms: spelunking, white-water rafting, kayaking, and camping, to name a few. Meredith is thrilled to work at Schoolhouse of Wonder because it combines her two biggest convictions: that the natural world is valuable beyond measure and that everyone deserves a space to ask questions and feel heard. In her spare time, Meredith could be doing anything from hiking on the Eno to volunteering at APS to working on her latest art piece. Ask her to do her bagpipe impression or improvise a song—you won't be disappointed!
---
Chris Artman (2018)
Durham Camp Counselor
Chris was born and raised in the Triangle. Throughout the years, he has enjoyed spending time outdoors. He received the prestigious award of Eagle Scout with his participation in an outdoor lifestyle. Currently he is studying Mechanical Engineering at UNC Charlotte. Chris loves the outdoors and spends as much time outside as he can. Chris enjoys camping and hiking. His love for kids makes him super-excited to get the chance to share his outdoor knowledge and experience with them all summer long!
---
Jackson Beck (2015)
Durham Camp Counselor
Jackson was born in Durham and has lived there all his life. He's been attending Schoolhouse since the age of 5, and hasn't missed a summer since. Jackson currently attends Appalachian State University, where he is studying history. When it's nice enough to be outside you can probably find him hiking or playing basketball. He loves to work with kids and cannot wait for another great summer!
---
Malik Boler (2018)
Durham Camp Counselor
Malik grew up and currently lives in Durham. He hopes to transfer to ECU in Greenville to earn his BA in computer science. Malik has developed a passion for wrestling and has enjoyed the sport for the past ten years.  In his spare time, he likes to write code and design animations on his computer. Malik is excited to join the team and looks forward to a great summer!
---
Kailie Bowers (2018)
Orange Camp Counselor
Kailie lives in Chapel Hill and is a rising junior at UNC. She is currently studying Education and Religious Studies with hopes to work with youth in mentoring programs or become a teacher. When she is not studying, you can find her hiking, river rafting, camping, and traveling. During the school year, Kailie works at an afterschool program with kids and on the weekends she mentors high schoolers at her church in Raleigh. Kailie has spent the last three summers at different summer camps in Tennessee and Ohio, and she is looking forward to staying local this year. She is thrilled to be at Schoolhouse of Wonder and have the opportunity to get to meet so many cool children and to experience tons of memorable adventures!
---
Eliana Chervin (2018)
Durham Camp Counselor
Eliana grew up on the coast of Connecticut running around in her backyard, going to the beach, playing in her tree-house, and going on hikes with her family. She is currently attending school at Elon University where she is majoring in Special and Elementary Education. She has been working with children for as long as she can remember and is passionate about watching them learn and grow. When Eliana has a spare moment, she enjoys volunteering with animals, cooking, and going on adventures. She loves to be outside, preferably at the beach, and is thrilled to join the Schoolhouse team. Eliana cannot wait to share her love of the outdoors with her Schoolhouse campers.
---
Donovan Corbett (2018)
Orange Camp Counselor
Donovan is from Cedar Grove, NC and is a recent graduate of the University of North Carolina at Greensboro. In his free time, he coaches youth basketball and likes to fish. Donovan is excited to work with/for Schoolhouse of Wonder because he would like to impact young people's lives and in return see how they view the world. He is generally interested in music, sports, having fun, and learning new things. Donovan believes at this camp he will be able to introduce these things to the kids.
---
Chris Dillon (2018)
Durham Camp Counselor
Chris was a Scout growing up, which really oriented him to the outdoors. He loves nature and weather. In addition to scouting, running cross country was a great way to get back to the woods! Chris earned a Bachelor's degree in Psychology from UNCG in 2015, and has been working with individuals with developmental disabilities for the past 8 years. Now Chris works in the Exceptional Children's department in the Durham Public Schools system! He believes in helping everyone succeed, whether that be a camper, student, or staff member.
---
Tisha Dixon (2018)
Durham Camp Counselor
Tisha Dixon is a North Carolina native from Kinston. She is a former student-athlete from North Carolina Central University and recently graduated with her Masters in Social Work. She is passionate about positively impacting the lives of the youth and believes "Kids are the Future." She enjoys being outdoors, playing any type of sport or activity, and loves the water. Her love for people is genuine and she seems to have a special aura that connects her with kids. She is excited to be a part of Schoolhouse of Wonder team and is ready to engage her skills, creativity, and positive energy. "I love kids: you never know what you're going to get. One day I will love to start a program advancing their knowledge of higher education, self-love, and leadership."
---
Dekedrik "Kee" Fields (2018)
Durham Camp Counselor
Dekedrik is from Henderson, North Carolina. He grew up fishing with his grandmother and riding four-wheelers with his cousins through every type of weather imaginable. He currently attends North Carolina Central University and is a senior. He loves kids and is always up for a good time!
---
Brittney Fuller (2018)
Orange Camp Counselor
Brittney Fuller is a native of Jacksonville, North Carolina. Growing up with a father in the Marine Corps, Brittney found joy in discovering nature. This often included playing "Survivor" in the woods with her sister during the summers, picking flowers, and jumping in the creek in her backyard. In high school, Brittney picked up the sport of tennis and loves to spend time on the court. Once in college, Brittney discovered her love for working with children of all ages through her employment at Lawson's Preschool and numerous other volunteer activities. She now studies Human Development and Family Studies at the University of North Carolina at Chapel Hill and is excited to work at Schoolhouse of Wonder to combine her love for the outdoors and nature with her passion for giving back to children.
---
Erika Grandstaff (2018)
Wake Camp Counselor
Erika spent a lot of her childhood going on imagined adventures around the woods, treehouse, and creek behind her house in Clayton, NC. She also enjoyed lots of fun summer camps, including a couple at Umstead. Erika is looking forward to being back in nature after completing a double major at NCSU for English and anthropology. When she's inside, you'll probably find her cooking, reading, or writing, and when she's outside she gardens, goes on nature walks, and says hello to any animal that makes eye contact with her. At Schoolhouse, Erika's main goal is helping kids develop creativity, compassion, and confidence, so that when her pun-loving father inevitably asks, "Are they happy campers?," she'll be able to answer, "Yes."
---
Ebony Green (2018)
Durham Camp Counselor
"¡Me encanta hablar Español!" That means, "I love to speak Spanish!" Ebony is currently working on a BA in Spanish as well as a public health major at East Carolina University. She hopes to become a Spanish-speaking physical therapist. Ebony was born and raised in Durham, North Carolina but spent most of her childhood in New York. She is a proud dancer for Carolina Dance Academy and the Riverside Dance Department for 10 years. Her favorite styles of dance are jazz, contemporary, hip-hop, African, and modern. In her spare time, she enjoys teaching dance classes at my old high school. When she's not studying or dancing, she's sitting around with her two best friends and enjoying a few slices of pineapple pizza.
---
Rachel Innocenzi (2018)
Wake Camp Counselor
Rachel grew up in Erie, Pennsylvania where she spent most of her free time exploring Presque Isle State Park looking for beach glass off the coast of Lake Erie, kayaking in the lagoons, and hiking the trails with her friends. She loved attending summer camp as she grew up, and has already spent two summers as a camp counselor at a camp in Fairview Township. Her love for the environment took her to Pennsylvania State University, where she just received her bachelor's degree in Environmental Resource Management and a minor in Biology. She fell in love with North Carolina when she spent her last summer as an Education Intern at the Baldhead Island Conservancy. As an Intern she was able to lead island nature tours, skate and squid dissections, crabbing and surf fishing lessons, as well as work on sea turtle nest excavations, and lead camp activities for children of all ages. Rachel is very excited to spend her summer with Schoolhouse of Wonder and can't wait to learn from her new team, while making sure every child has a fun and exciting experience!
---
CJ Love (2018)
Orange Camp Counselor
CJ was born and raised in New Orleans, Louisiana, where he spent his youth camping, paddling, biking, and hiking in the bayous and pine scrub of Cajun country. He particularly enjoys backpacking, sea kayaking, mountain biking, and learning about the flora and fauna of the places he visits. Never one to turn down an adventure, he has delved into the backcountry across the deep South and in North Carolina, Arkansas, New Mexico, Colorado, Alaska, and abroad in Peru and Southeast Asia. He served as an outdoor guide/educator and camp counselor in Louisiana, Mississippi, and Alaska before earning B.A.s in History and Creative Writing from Southeastern Louisiana University. He has since served as a teacher in Louisiana and in Taiwan, where he sought to bring the energy and hands-on learning of his guiding experience into the classroom. He will be starting a Ph.D. program in history at UNC in August. His primary interest lies in the intersection of culture, history, ecology, and landscape, an enthusiasm he hopes to pass onto his campers. His other passions include reading, writing, playing music, drawing, and learning languages (especially Spanish). He is overjoyed to join the Schoolhouse of Wonder team this summer, and can't wait to learn with his fellow counselors and campers through exploration, storytelling, and play in the beautiful hills and streams of Orange County.
---
Savannah Lynch (2018)
Wake Camp Counselor
Savannah is a current junior at UNC-Asheville and is pursuing degrees in environmental ecology and biology. She grew up in Chatham County and has lived in North Carolina her whole life. Savannah enjoys camping and seeing our beautiful state and national parks. When she's not camping, she's busy playing her favorite sport, soccer. Savannah worked as an official for kid's recreational games in her county, which allowed her to work with kids outdoors. She's excited to become a part of the Schoolhouse team and can't wait to meet you!
---
Nathan Marquard (2018)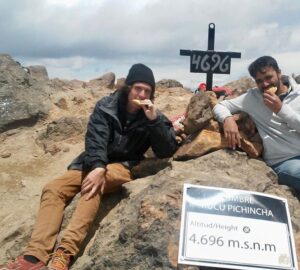 Wake Camp Counselor
Nathan is a recent graduate from NC State, where he studied Environmental Science and Sustainable Development. He has always loved spending time in the outdoors! Being a Boy Scout as a kid taught him to love being outside.  Nathan loves to backpack, hike, canoe, camp, and everything really. Three years ago he biked across America for his greatest adventure yet and it inspired him to pursue a  career in the outdoors and environment. Nathan just finished studying in Ecuador, where he was able to hike in the Andes mountains and the Amazon rainforest. He's excited to be back in Umstead, a park he loves dearly, working with others to appreciate the great outdoors that we have here in our backyard!
---
Beverly Medina (2018)
Durham Camp Counselor
Beverly is a recent transplant to North Carolina from sunny Florida, where she spent her childhood exploring beaches, forests, and swamps. She is an environmental engineer who is working toward a Ph.D. at UNC, and joined the Schoolhouse team so that she could do something meaningful with her summer while getting her hands dirty and feet wet! She owns six string instruments and loves distance running, hiking, and her corgi mix, Tesla.
---
Torian Morrow (2018)
Wake Camp Counselor
Torian is currently a student at UNCG. Torian may have a passion for fashion and making music but he loves the outdoors equally. Torian is excited to have a great time this summer!
---
Jordan Skinner (2018)
Wake Camp Counselor
Jordan grew up at the beach in Kitty Hawk where she probably spent more time during the summers in the water surfing and swimming than on land. She's always felt a connection to nature, whether it's salty and wet or forested or anything in between, and you'll often find her wandering through hiking trails or rescuing bugs and worms from the sidewalk. Jordan loves getting to know people – what makes them think, what inspires them, what gives them joy – and she's thrilled to be a part of the Schoolhouse team and share that experience with campers and her teammates this summer.
---
Anna "Spinny" Spinnenweber (2018)
Wake Camp Counselor
As Spinny grew up in the cities surrounding Raleigh, North Carolina, she wanted nothing more than to be out where the mountains touch the sky. As a kid, Spinny would be outside constantly hiking, exploring, or taking care of horses (and any other animal she could get my hands on). Her favorite adventures include caving, rock climbing, and camping. Spinny studies Neuroscience and Leadership at Western Carolina University. In previous years, she volunteered at the North Carolina Therapeutic Riding Center which inspired her love for medicine and combined her passion for horses and people. Spinny lives her life with the intention of helping others, so if you need a hug or a band-aid, come find her!
---
Laura Toptine (2018)
Durham Camp Counselor
Laura has been working with kids since the age of 10. Early on,  she recognized a passion for working with kids and began her path towards a child-centered career. Laura graduated from NC State with a degree in secondary education in 2013. Laura's two years in the classroom exposed her to the lack of mental health resources which spurred her desire to return to school. Laura is currently a graduate student in mental health counseling at NCCU and, following graduation, hopes to work with foster youth. Laura currently lives in Durham with her husband of almost 2 years, her 3-month-old daughter, and 3 fur babies.
---
Vinnie White (2018)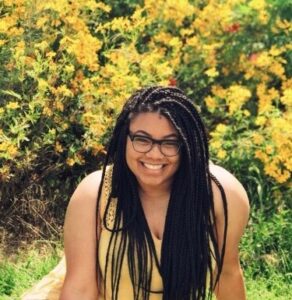 Durham Camp Counselor
Vinnie is from and lives in Richmond, Virginia. She currently studies Psychology and Communication Sciences and Disorders at James Madison University in Harrisonburg, VA. This summer she has decided to visit her adoptive family in Creedmoor, NC as she rarely sees them. She loves music, reading (especially poetry), photography, and taking naps. She is so excited to be at Schoolhouse of Wonder as she loves working with kids and the organization promotes everything she stands for – creativity, growth, and acceptance. Vinnie is so ready to learn new things and make new and great memories this summer.
---
Haley Carpenter (2018)
Durham Junior Counselor
Haley is a Durham native who grew up playing and swimming at the Eno River every year. She attends Riverside High School and is enrolled in the Engineering Program. She has worked with Schoolhouse of Wonder Camp for two years as a counselor-in-training (CIT) and is super excited to join the team this year as a Junior Counselor. She enjoys science, field hockey, trees, swimming, being active, and having fun!
---
Maya Chambers (2018)
Durham Junior Counselor
Maya is a rising junior at Durham School of the Arts. In her free time, she enjoys spending time with family, playing with kids, and baseball. She is excited to have an amazing summer on the Eno!
---
Maddie Fan (2018)
Wake Junior Counselor
Maddie is currently a student at Enloe High School. She loves to spend her time to go hiking, camping, and explore the outdoors. She really enjoys working with campers from Schoolhouse of Wonder each summer and being a part of such a fun, loving community. In her free time, Maddie loves to dance, play music, and hang out with her friends and family.
---
Macy Henry (2017)
Orange Junior Counselor
Macy has lived in Chapel Hill for almost 10 years. Her favorite things about the area are the music and abundant hiking trails and swimming holes. In Macy's free time, she likes to bake, play volleyball, explore, play ukulele, and most importantly spend time outside with her dog. She loves being a part of Schoolhouse because it's a great opportunity to disconnect from technology and spend time in nature with other curious minds.
---
Macon Hubert (2018)
Durham Junior Counselor
Macon is a Durham native that has grown up being in the outdoors. He has been a part of Schoolhouse since he was too young to remember and has enjoyed every bit of it. In his free time, he enjoys going camping and hiking. His favorite experience in the outdoors was a backpacking trip in New Mexico with the Boy Scouts where he was attacked by squirrels. His favorite parts about returning to Schoolhouse every year are that seeing how everyone changes and grows and meeting new people. Macon enjoys backpacking, Science Olympiad, Schoolhouse games, kayaking/whitewater rafting, and relaxing in the outdoors
---
Anna Joel (2017)
Durham Junior Counselor
Anna moved to Durham when she was 7 and has attended Schoolhouse of Wonder ever since. She spent her early years in Florida with an array of peculiar pets. Anna is a junior at Durham School of the Arts with a pathway in Digital Media. She loves hiking, ultimate frisbee, photography, and creature hunting with her family. Anna also likes to go foraging for mushrooms and other edibles with her father. When Anna is not outside in the wilderness, she is baking, reading, and traveling. She is eager to share her awesome experiences and adventures with the campers.
---
Noah Lindenberg (2018)
Wake Junior Counselor
Noah was born in Yuma, AZ but grew up in Memphis, TN. He moved to Rocky Mount, NC in 2011 and Cary, NC in 2013. He is a student at Apex High School and studies journalism and political science. Noah began his time at Schoolhouse of Wonder as a camper and then volunteered as a Counselor-in-Training for 3 years. He also volunteers with the Apex Community Emergency Response Team, a group committed to assisting the Fire Department in aiding and serving the community. He has a passion for sports and the outdoors including activities like hiking, camping, and running. Noah enjoys teaching as much as being taught and is always excited to learn from those around him.
---
Willard McKiver (2017)
Orange Junior Counselor
Willard is from Durham, NC and attends Southern High School. In his free time, he likes to read, write, play sports, and play games. Outside of school he models, acts, and plays the piano.
---
Hunter Moore (2018)
Wake Junior Counselor
Hunter was born in San Francisco, California, but has spent most of their life in Raleigh, North Carolina. Hunter has enjoyed spending time outside as long as they can remember, and particularly enjoys nature-based summer camps. They also enjoy working with kids, with experience babysitting young cousins and parents' friends' children. Hunter was a CIT at Schoolhouse last year and is incredibly excited to return and continue to combine their love for nature and summer camps with their love of working with children.
---
Natasha Waters (2017)
Durham Junior Counselor
Natasha is a rising senior at Riverside High School. She loves being outside and has been coming to camp since she was five. In her free time, she enjoys playing volleyball, writing, and taking naps. Natasha is thrilled to be back helping kids explore nature at Schoolhouse of Wonder!
---
Elias Zauscher (2017)
Durham Junior Counselor
Elias is a Durham native. For his entire life, he has enjoyed nature in the Durham area. Elias first attended Schoolhouse of Wonder at age 5 and kept coming back. In his free time, he enjoys playing with Lego, doing a wide variety of sports, and nerdy science things.
---
Ben Throckmorton (2018)
Photo Intern
Ben is a rising junior at Jordan High School and has lived in Durham for the past 12 years. He is passionate about the outdoors and photography. Since he started school, he has gone on numerous nature trips with classmates and family; his favorite trip was going to River Girl in Boone, NC. He is interested in agriscience and biotechnology, and has played the piano since he was 7. He is very excited to begin working with the team this summer and spending time outside capturing the fun.
---
We also count on our wonderful board of directors to help round out the team. We're grateful for the dedication our staff and board demonstrate every day. It shows up in big and small ways, and we couldn't do it without them. 
Want to join this crazy cast? Check out our Employment page.