You have to be a little crazy to work at Schoolhouse. The hours are long, the sun is hot, and the salary isn't going to build a big bank roll. But the privilege of introducing kids to nature, helping them discover how capable they are, and watching them grow in confidence every day is absolutely worth it. And the hugs don't hurt either. Here's our team who is dedicated to nurturing curiosity, celebrating courage, and most of all, caring for the whole of every child.
---

Wendy Tonker (2011) 
Executive Director
Wendy has 25 years experience as a nonprofit director and organizational development consultant. She joined the Schoolhouse staff in August 2011, after one year of service on the Board of Directors and three years as a camp parent. Wendy earned a bachelor's degree in Interdisciplinary Studies from Appalachian State University and a Masters of Public Administration from North Carolina Central University. Wendy finds joy in spending time with her family or seeking out hunting and fishing adventures. "My hope for kids that join us at Schoolhouse is for them to feel loved and supported to discover, fully embrace, and express who they are."
---

Meg Gulledge (2014)
Staff Director
Meg Gulledge is originally from the village of Misenheimer in Stanly County, North Carolina. She attended college in the mountains and has worked with children in many different capacities such as The Environmental Leadership Center, Buncombe County Child Services, Camp Occoneechee, and the Town of Cary's Hemlock Bluffs Nature Preserve.  After five years as Schoolhouse of Wonder's Wake County Site Manager she has begun a new adventure as the Staff Director.  "I will miss my Wake family but Grant Thomas taught me that good people need lots of love because they give so much of it away. I look forward to supporting so many good people and all the good work they are doing." 
---

Marty Jorgensen (2016)
Program Director
Marty grew up in Casper, Wyoming, and spent her childhood rambling around, snowshoeing, and climbing trees on her family's land on Casper Mountain. Inspired by her time outdoors, she decided to follow her passion for being outside and graduated from Green Mountain College with a degree in Adventure Recreation. Marty worked for a number of summer camps and outdoor organizations before bringing that experience to Schoolhouse of Wonder. She began her time at Schoolhouse helping start our Orange County location and managed that location for several years before becoming our Program Director. In her free time, she likes to grow food, play ukulele, make inventions, and generally goof around.
---

Meagan Wilson (2016)
Administrative Director
Meagan grew up in the Laurel Highlands of Pennsylvania and spent most of her time climbing trees, picking berries, looking for spiders, going on explorations in her forested backyard, and building epic snow forts. Her passion for the outdoors continued to grow after spending several summers as a camper at an environmentally focused resident camp on the shores of Lake Erie. She studied Chemistry at Centre College in Danville, Kentucky and was involved in several campus organizations with a community service focus including Alpha Delta Pi sorority and the Centre Science Club. When she isn't studying for her M.B.A. program, Meagan enjoys gardening, cooking, reading on her porch swing, hiking the local trails, visiting any and all bodies of water, going to museums, and discovering the beauty in everything. She also has a soft spot for her two cats, EV and Ollie, and her "better half" Jon. 
---

Bev Medina (2018)
Administrative and Program Support Specialist
Beverly is a recent transplant to North Carolina from sunny Florida, where she spent her childhood exploring beaches, forests, and swamps. She is an environmental engineer who just completed her M.S. at UNC, and rejoined the Schoolhouse team so that she could do something meaningful with her summer by mentoring Counselors in Training while getting her hands dirty and feet wet! Bev has just joined the Schoolhouse Team year-round in her new position. She owns six string instruments and loves distance running, hiking, and her corgi mix Tesla.
---

Kasey Sorrell (2019)
Administrative Assistant
Kasey was born and raised in Durham, NC where she discovered her passion for nature and art. In her youth, she often spent time exploring the great outdoors, photographing everything, and finding new ways to expression. Following graduation from Durham School of the Arts, she left for the mountains to attend college at UNC-Asheville. In 2019, Kasey earned a Bachelors of Arts in Psychology with a minor in Photography. She spends her free time enveloped in creating photos, collages, pottery, and cooking delicious meals. Kasey initially joined the Schoolhouse of Wonder team in 2017 as a Camp Counselor, and later returned as Summer Staff Photographer in 2019. She admires Schoolhouse's values and hopes to be an invigorating spirit of the admin team.
---

Pat Beezley (2018)
Field Trip and Community Programs Manager
Pat is originally from a suburb of St. Louis, Missouri, but has been moving around the country since graduating college. Pat has worked for outdoor recreation organizations including Raleigh Parks and Recreation, wilderness therapy programs in Utah and Georgia, several environmental/adventure education jobs, a climbing/whitewater rafting guide in the New River Gorge, and as a Traveling Trainer for Leave No Trace, touring the country with his wife teaching outdoor ethics while living out of a Subaru. Pat received his Bachelor's Degree in Outdoor Recreation from Southeast Missouri State University and his Master's Degree in Recreation Resource Administration with an emphasis in Recreation from the Southern Illinois University. Pat is so excited to be apart of the Schoolhouse of Wonder team and loves teaching and guiding kids in the outdoors. When Pat is not working he is spending time outside climbing, paddling, surfing, hiking, and biking with his wife and dog.
---

Abby Grewe (2018)
Durham County Site Manager
Abby is originally from the Wisconsin, where she grew up playing, swimming, and camping in the lakes, forests, and rivers of the beautiful Northwoods. She attended college in Portland, OR where she studied Biology and Hispanic Studies. During that time, she fell in love with the Pacific Northwest and moved for a few years to Seattle, WA where she both worked at an elementary school and led youth backpacking trips in the Olympic Mountains and Cascade Mountains during the summers. All of these experiences have led her to love outdoor education, and finding ways to get youth outside. When she isn't working with youth, you can find her reading a good book, cooking, hiking, playing with dogs, and road-tripping to new places. She is excited to explore North Carolina and learn about her new community in her favorite way- through the outdoors!
---

Kaylyn Braga (2018)
Durham Camp Lead and Field Trip Instructor
Kaylyn is originally from North Carolina, and after working outdoor education jobs in both California and West Virginia over the past two years, she is super excited to move back to her roots and work at Schoolhouse of Wonder again. She first worked at Schoolhouse of Wonder in the summer of 2017 and fell in love with all that West Point on the Eno has to offer to the people who work there and visit. She loves that this job gives her the opportunity to get paid while doing the things that she enjoys doing anyway. Some of her favorite outdoor activities include hiking, backpacking, rock climbing, floating in a multitude of bodies of water in a multitude of vessels, and hanging out with her dog. She can't wait to play in and around the Eno River with some of the best kids in the world again!
---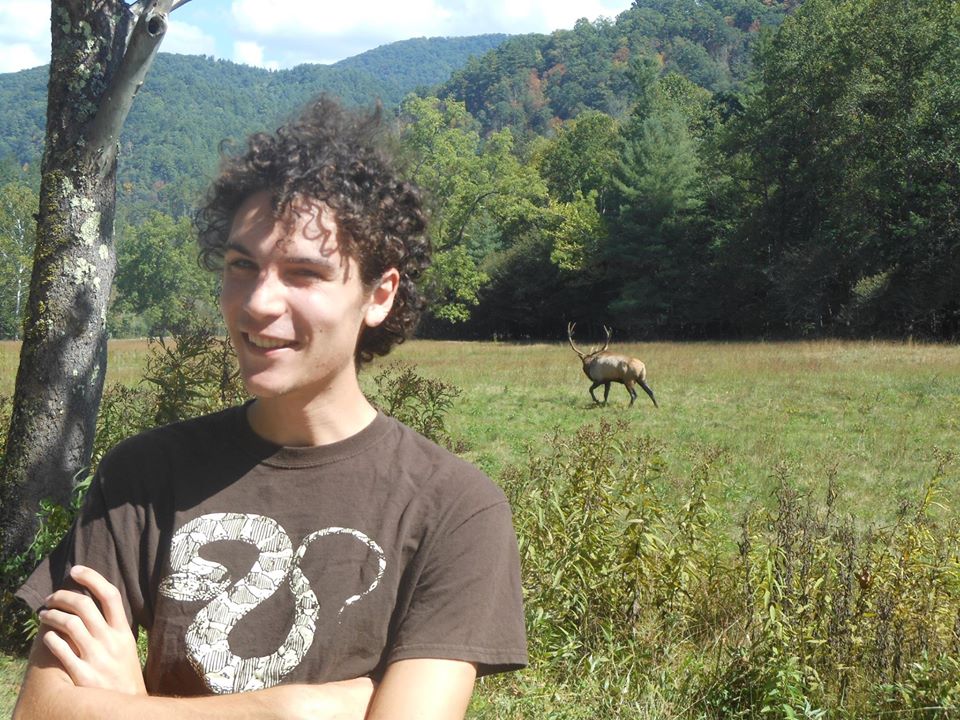 Joe Pirani (2020)
Durham Camp Lead and Field Trip Instructor
Joe has lived in Durham for most of his life, where he spent his childhood playing in the Eno River and the exploring acres of woods around it with his friends. He moved to Asheville for college where he attended UNC Asheville. Joe recently graduated with a degree in Earth Environmental Science. A few of his favorite hobbies include backpacking, racquetball, and crafts of all sorts.    
---
Suzanne Roudebush (2020)
Durham Camp Lead and Field Trip Instructor
Growing up as a Military kid provided Suzanne opportunities to travel around the country with her family to visit National Parks and live in multiple states. Her parents instilled a love for nature which has continued throughout Suzanne's life. Some of her favorite memories are digging for geoducks in the Pacific Northwest, hiking the Appalachian Trail and seeing a heard of Bison next to the road in Montana. Suzanne came to North Carolina to attend Meredith College and now resides in Durham. In her free time, Suzanne enjoys crocheting on the porch, hanging out with her cat, Bandit, and hiking. Suzanne is excited to join the Schoolhouse team and go on some adventures!
---

Jenna Engelking (2018)
Orange County Site Manager
Jenna Engelking is originally from Northern Illinois.  She grew up on a farm where she spent her childhood exploring the woods around her home, catching snakes in the creek, and raising various farm animals. She received her degree in Animal Ecology from Iowa State University.  Since college, she has been teaching kids to love the outdoors all around the country at different outdoor schools and camps. She especially loved spending a year in Cuenca, Ecuador teaching English. When she is not educating through nature, she enjoys reading, making music, and exploring new hiking trails with her fiancé and dog. She is very excited to continue to inspire kids through nature!
---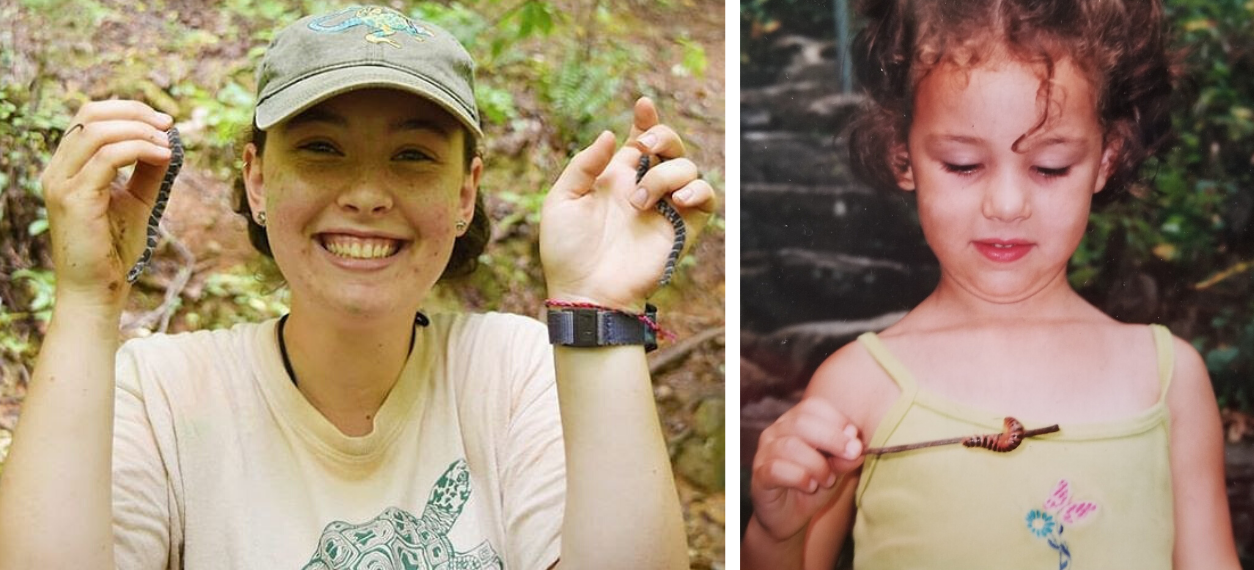 Maya Marin (2019)
Orange Camp Lead/Field Trip Instructor
Maya grew up in Chapel Hill but loves living in Raleigh after graduating from NC State. After thinking she was going to teach high school Biology, she decided that being in a traditional classroom was not going to satisfy her love of the outdoors. Through undergrad, Maya led outreach for the Herpetology Club where she grew her love of teaching kids and adults about snakes and reptiles and now has an entire room of pets in her house with snakes, tortoises, geckos, and a variety of invertebrates. On the weekends, Maya might be leading birthday parties at the Museum of Natural Sciences, looking for snakes while walking her dog, or eating sushi.
---

Maddy Rossie (2015)
Wake County Site Manager
Maddy Rossie grew up right here in Cary and Raleigh, North Carolina where she could often be found climbing trees and jumping in leaves. She graduated with a Theatre degree from Adelphi University in New York but was drawn back here to her real home. Inspired by her years as a Girl Scout, she returned to the outdoors where she found Schoolhouse of Wonder. She has fallen in love with mentoring and playing with kids and teens in the beautiful parks of this area and is always excited to continue her time at Schoolhouse! 
---

Frank Barnett (2016)
Wake Camp Lead
Frank is currently on sabbatical, and is hiking the Pacific Coast Trail (PCT). We wish him luck, adventures, and safe travels!
Frank is a native Central Floridian who grew up backpacking through the Ocala National Forest and through the Smoky Mountains of North Carolina. He graduated with a bachelors degree in Sociology in 2013, and in 2015, he went on a 2000-mile thru-hike of the Appalachian Trail. He currently lives in Cary, North Carolina, pursuing his love of environmental education with Schoolhouse of Wonder and hopes to enrich the lives of young outdoor enthusiasts. Frank has been a part of numerous outdoor youth camping experiences through his church and is excited to be leading the next generation of campers today. In his spare time, he loves to do yoga, read good books, hike, and play instruments.
---

Kailey Palazzi (2019)
Wake Camp Lead
Kailey spent the last 13 years of her life living in western Massachusetts, before that Michigan and Virginia. Spending the majority of her days as a child exploring the outdoors. As a teenager, she found her love of hiking and climbing mountains. While at U Mass Amherst, she studied Biology with a focus on plants, animals, and the environment.  Outdoor facilitation has been a passion for the past two years. During her time as an instructor in the Berkshires of Massachusetts, she had the opportunity to work and travel in New Zealand for six months back packing and exploring throughout the north and south islands.
---
Stephanie Douglas (2020)
Wake Camp Lead
Stephanie was born in the small town of Poquoson, VA, and later moved to the foothills of North Carolina.  Growing up, she spent all her free time outside riding bikes with her brothers, climbing trees, catching critters and practically living in her bathing suit. As a water lover, she ended up working as lifeguard and swim instructor for both the YMCA and North Carolina State University, where she studied Nutrition Science.  During her time as a Nutrition Intern teaching 2nd and 3rd graders, she fell in love with youth activities and went on to work within Special Education at Green Hope High School.  Later, after leaving a corporate job, Stephanie backpacked through New Zealand, rekindled her love for the wilderness, and was inspired to pursue a career that was more in line with her values. She's so excited to use her passion for the outdoors to mentor and guide campers to kindle their own self-love and confidence within nature adventures.
---
Hunter Eggleston (2020)
Wake Camp Lead
Hunter was born in Seattle Washington. Some of his first outdoor experiences were on his mother's back while his family went on hikes in the Olympic and and Cascade mountains. When he was a child his family relocated to Raleigh North Carolina where he spent as much time as he could fishing and meandering around  local ponds, rivers and lakes. When Hunter was in highschool he learned how to play guitar and mandolin and shorty after started a band with his brother called Brothers Egg which he still plays in today. In 2014 Hunter embarked on a long distance hike from Georgia to Maine along the Appalachian Trail. Inspired by his experience thru hiking Hunter decided to go back to school and complete his undergraduate degree at Appalachian State University majoring in Sustainable Development and Environmental Studies. Hunter also enjoys step dancing and practicing "earth skills" like flint knapping, bow-drilling, and Archery.
---
We also count on our wonderful board of directors to help round out the team. We're grateful for the dedication our staff and board demonstrate every day. It shows up in big and small ways, and we couldn't do it without them. 
Want to join this crazy cast? Check out our Employment page.