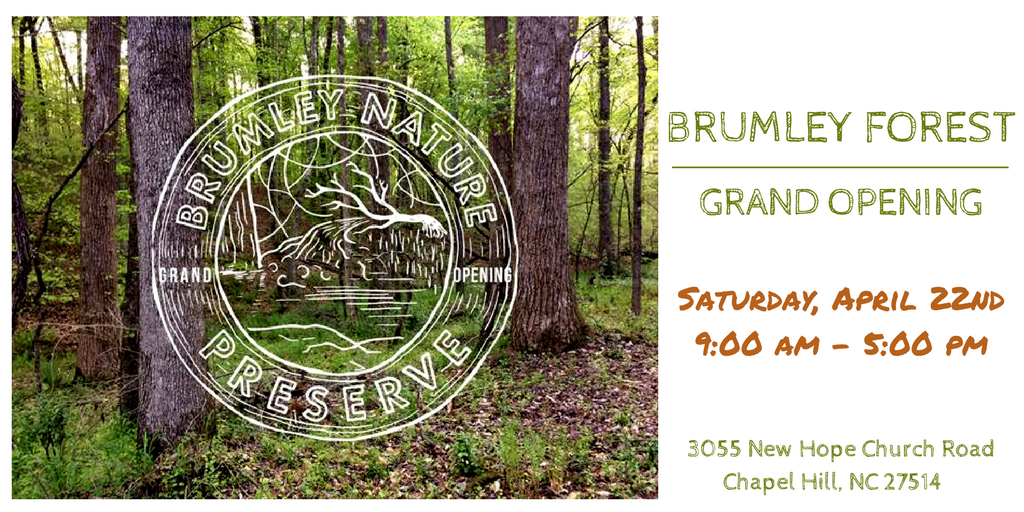 Join us this weekend for the Grand Opening of Brumley Forest, our Orange County location. On Earth Day 2017, Triangle Land Conservancy opens its 7th nature preserve to the public! Bring your friends and family to the George and Julia Brumley Family Nature Preserve for a free day of led hikes, runs, mountain biking tutorials, guided trail rides, nature adventures, kids activities, yoga, and more to celebrate all the ways Triangle residents can use this new resource. Visit with TLC Partners and enjoy ice cream, food trucks, and local beer while testing your luck with raffles and contests for outdoor gear and experiences.
Schoolhouse is excited to be involved both as a partner, exhibitor, and program provider. Stop by and see us in the exhibitor area (by the food trucks!) or join us for one of our activities. No RSVP required. If you've been to Brumley before, parking will be located at the public entrance (not the Schoolhouse gate).
10 am – Forest Fort Building 

We'll fuel our creativity with the beauty of the world around us including homes and structures constructed by forest wildlife. We'll use natural materials, imagination and ingenuity to create our own masterpieces.

1 pm – Whittling for Beginners 

Stop by and learn some basic whittling skills and leave having created something out of wood. Whether you've whittled before or not, we'll help you get safely get started. Peelers provided, for ages 5 and up.

2 pm – Game On!

Come out and explore and try some forest games – sneaky hiding games, loud running games, field games, or forest games! Finally, play some of the games your child has been talking about!
Learn more about the day and see the full schedule of the day's activities here.