We are thrilled to offer summer camps at two locations within Umstead State Park (Reedy Creek entrance). Please follow the links below to find out more about the programs we offer at each location.
Need help registering? Here's how.
Want to add Aftercare to an existing registration? Make sure you're logged into your account first and then click here.
---
Is the camp you're interested in already full? Don't panic! Do sign up for the waitlist (it's free)!
We often have spots open up. If that happens, we'll call the first person on the waitlist and work our way down. If we call you and your plans have changed, not a problem. We'll just call the next person.
To sign up for the waitlist, try to sign up for the camp & follow the directions to add your name to the waitlist.
---
In our Wake Summer Camps we know that some kids play easily with others, some walk intrepidly into adventure, while others may fear the unfamiliar. At Schoolhouse of Wonder, every kid matters. Each person, young or old, is different. We love that.
Our award-winning, nature-based outdoor camps have different themes each season, but they are all inspired by our core values. Low camper-to-staff ratios allow campers a sense of freedom while providing a safe and nurturing environment. Campers (8-17 years old), Counselors in Training, and staff can also challenge themselves to grow and learn by earning "Growth Rings" in areas like fire making, whittling, plant lore, and snake identification and handling. 
Oh, and by day's end, we'll return your kids dirty, tired, and happy. Guaranteed.
---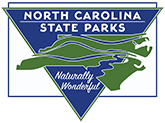 Wake summer camps are located at Umstead State Park and are made possible through our partnership with North Carolina State Parks.